Brand names just live longer and last longer. Rush poppers have been around since the nineteen seventies. A few variants of this aroma have come and gone with some extra strong poppers and extra strength life types coming to the fore. Black Red and some one off rush runs including the supper pellet "shake and breather" a brand name to keep an eye out for when the sales once again hit the shop shelves.
We stock UK poppers and also sometimes get the American style and mix formulas.  Rush has always delivered a quick effective Buzz and we believe it will be around for decades to come. Cheap and cheerful in its original form and likewise due to its popularity can and is a firm favorite with poppers users. A few fake products out there but at popper shopper warehouse we sell direct supplies form the suppliers Even though poppers have a long shelf life they don't spend to much time on our shop floors. Its bad business to have static stock but as yet we have not run out of Rush.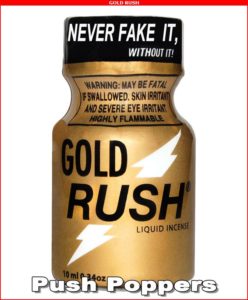 Used by gay and straight guys alike and some women as well. Bondage scene also has a strong poppers following. Would you train and keep a wild slave? Consider acquiring some man cuffs or wrist restraints. Our straps are Velcro lined comfortable to wear and a high quality product. A combo with the 40th Rush birthday party a 40ml special run so a wild session and party could begin, the bottle opening is still standard size so same or equal but hopefully less chance of spillage! Four times the quantity of standard 10 ml and prices at 16.90 including shipment and vat. Typical of rush PWD to supply yet another one off product promo. Another contender could be the Gold rush Popper, customers could with this aroma have the sexual time of their lives due to its long lasting effects. 10ml 8 Euros and take it to your sex party! Sporting the "never fake it" branded logo what else could help you get more horny. Super Rush likewise is red and not the traditional yellow or gold , it stand out designed to stimulate sex drive bring rush on!