Christmas time, mistletoe and wine, and poppers of course 🙂  E commerce is the way to go from now on and has been overtaking the traditional shopping methods of times gone by. Of course if you like to get stuck in traffic pay for parking or transport and then get frustrated impatient and generally stressed out then pop down to your local city or town shopping centres and get into the festive spirit. If that's not your thing then shop on line and then spend the remaining time saved on something more constructive perhaps or just relax. Christmas stores such as Macys do both either on or off line so have the best of both worlds. We keep our prices for our poppers down enabling you to buy poppers and save the difference.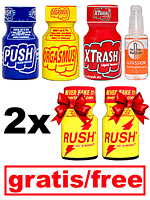 This year we have a number of Xmas specials to tempt you. The mixes include three special promotional packs with savings of up to and over 50 % ! Including free rush poppers reds and some of the more European names such as Amsterdam, plus a promo for some newbie lubricant hitting our shelves and flying off them which is best served up warm. Vibrator and dildos also feature based on real live versions.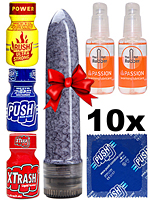 Buy your aromas with complete confidence and satisfaction guaranteed, same day processing dispatch and possibly delivery, not to mainland Austria though as we don't ship there, sorry. We not only sell poppers we do also sell lubricants and other enhancing products to further develop and explore your sex lives and Christmas could be just the right time of year to experiment and have a bit of fun on the side or in the bed. Christmas is a time to relax and what can be more relaxing than having a few poppers to chill with.